Meet the Harris Creek Dental Team
Dr. Baber and the rest of our caring dental team welcome you and your family to Harris Creek Dental. We are passionate about providing quality family dentistry to our community. We take the effort and time to get to know you and your needs because we believe personalized dental care is the best way to a healthy smile.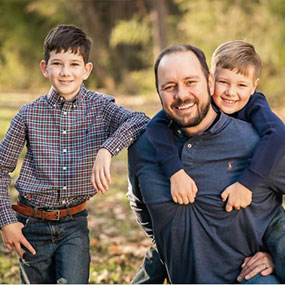 Meet Dr. Sam Baber
Dr. Baber graduated cum laude from the University of Texas Health Science Center Dental School at San Antonio with research honors and additional elective education in implant dentistry, endodontics, and managing dental emergencies. He received the award for Most Outstanding Implant Education and was on the Dean's List. Prior to dental school, he earned a bachelor's degree in chemistry from Baylor University and a master's degree from the Texas A&M College of Medicine in Medical Sciences.
Dr. Baber has gained experience in implant dentistry, cosmetic dentistry, pediatric dentistry, and working with elderly populations by working in various clinical settings. In an attempt to provide quality care for his patients, Dr. Baber actively pursues continuing education above what is required to maintain his dental license. He is a Fellow in the American Dental Implant Association, a rare award given based on many hours of education and the completion of several clinical cases. He is also a member of the Academy of General Dentistry, American Dental Association, and the American Dental Implant Association.
Dr. Baber has fond memories of living on the family's farm outside Waco as a young boy and is grateful for the opportunity to return to the central Texas area and settle down with his wife and two sons. Dr. Baber and his family enjoy outdoor activities, including mountain biking, kayaking, and fishing.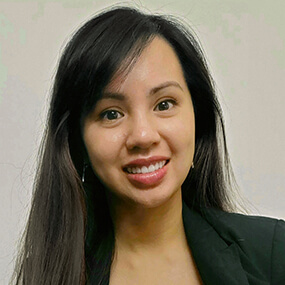 Meet Dr. Lynda Nguyen
Average is never enough for Dr. Nguyen. She takes great responsibility for the dental health of her patients and strives to exceed excellence in dental care. This drive started early when Dr. Nguyen made her way to Texas from Wisconsin to earn her bachelor's degree in biology from the University of Houston in 2011, graduating Magna Cum Laude (with high honors). She became Dr. Nguyen after achieving her Doctor of Dental Medicine degree from the reputable Midwestern University College of Dental Medicine in Arizona. While in dental school, Dr. Nguyen was voted the most compassionate student in her suite and was committed to patient comfort and care.
Dr. Nguyen is known for her compassionate nature, gentle touch, and clinical skills. She often helps patients overcome their dental anxiety and help patients feel confident about their smile again. Since becoming a dentist, Dr. Nguyen has taken many hours of continuing education classes to keep up-to-date with patient care and treatment.
When the white coat comes off, Dr. Nguyen enjoys spending time with her husband and two beautiful daughters. She enjoys the small and large things in life and enjoys trying new restaurants and food, loves animals, and video games.
Have questions for our team? We have answers! We look forward to speaking with you.